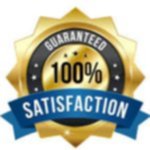 If you are not completely satisfied with your order, simply return your product within 14 days of receipt of your order to receive a full refund, less shipping and handling charges.
If you wish to return your product, please contact us within 30 days of receiving your shipment. Once you have received your Return Merchandise Authorization Number (RMA), you will need to write it on your return label. Shipments without a RMA will not be accepted for returns. Shipping charges are non-refundable.
Other conditions may apply. See our terms & conditions page.